Hi, just thought id post my MK5 2.5D SWB HI-TOP camper build on here, some pics of it have been on the forum before when ive been asking you guys questions but now I think ive put the photos in order so it shows how I took it apart and then put it back together with some explanations.
I guess the first place to start was why I chose a transit.
Well, I wanted to travel around the extremities of the British Isles so I can paint and photograph landscapes on the odd weekend but also take a trip or two into Europe. So I needed a van/camper which is small enough to get up the small lanes and passageways of the coast roads but yet big enough so I can actually live in it for a weekend or perhaps a week or two (that's sleep, cook, eat, shower, live and toilet). Also I can't justify having a dedicated camper around the place just sitting there most of the year doing nothing so I'd like to be able to transform it from a camper back to a normal van to carry things in etc.
My choices were:
An old VW camper ---- Too small, too crappy and way too expensive.
A newish VW camper high top, Transporter van ---- Too expensive.
An old Mercedes high top van ---- Ugh, not too keen on them.
New Mercedes high top van ---- Way too expensive.
Japanese vans ------ too small.
Land rover ----- Would have to put a safari fold out tent on roof, not keen.
Coach built camper ------- old ones are rubbish, new ones are too expensive.
TRANSIT SWB HIGH-TOP --------- A good one is hard to find.
I figured that a SWB Hi Top transit is the best vehicle out there for me but I couldn't find a good one.
So that's when I thought that if ford can stick a fibreglass roof on a transit on the production line and sell it..... I could stick an old fibreglass roof on a good Transit in my workshop. But I couldn't find a SWB fibreglass roof, I could find plenty of LWB vans with the long fibreglass roofs (jumbos) in the scrap yards but they obviously won't fit a SWB van.
Yep you guessed it. I bought a LWB fibreglass roof cut two foot out of it and stuck it back together again using fibreglass resin etc, and newly acquired boat (hull) building skills. Haha....
I was going to buy a good nik mk5 so I had a look at ones for £1000+ and they were rubbish and I know I'll be welding it up in a few years as they are all going to be 8 years old by now. I even saw a couple for around £2000 and I didn't think they were much cop and none of them had a high-top. So, I was actually given a semi-hi, which had failed its mot and had a knackered engine.... so, I thought that if I spend a couple of days welding it up, at least it'll last for a good few years and I'll save money..
...haha......yeah.. right...
So, this is my SWB Hi Top 2.5D Transit camper build.
This is what it looked like when I first got it. A mk5 96 pre-banana builders van with god knows how many miles on the clock, bashes all over it and all of the doors shot... Still, it was free.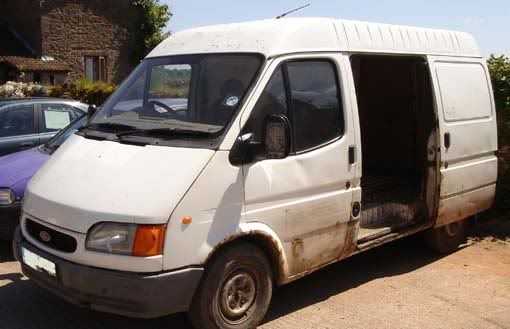 Then I started to look for the rust.... well, I didn't have to look very far....So, I started to cut out the old steel ready for the new steel. It was hard to know when to stop.
I put new sills on it all the way around, Inner and outer. I didn't buy them I just bought a sheet of steel cut it up and folded it roughly into shape. So all the bottom of the transit has now lost its curves and now has straight edges. Haha......
New wings and headlamp holders placed on it.
I've just sliced off a section of the steel roof and am now trial fitting the back of the high top fibreglass roof.
New driver's rear arch, none of the outer driver's sill exist now.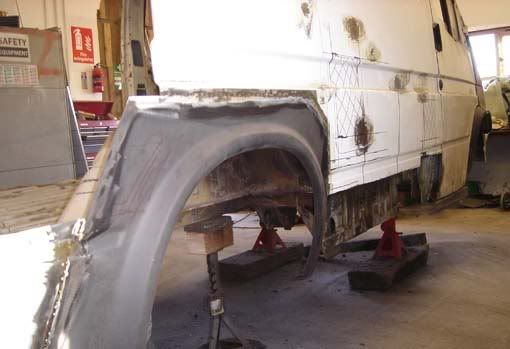 There was a big dent on the passenger rear quarter of the van which I've just cut as well as the old passenger rear wheel arch.
This is the fixed rear passenger quarter. The new steel section just in front of the rear light holder was a section taken from the driver's side which was taken out to make a door for the gas bottle. It was just turned upside down and welded back in. Hoping the body lines kinda line up...haha..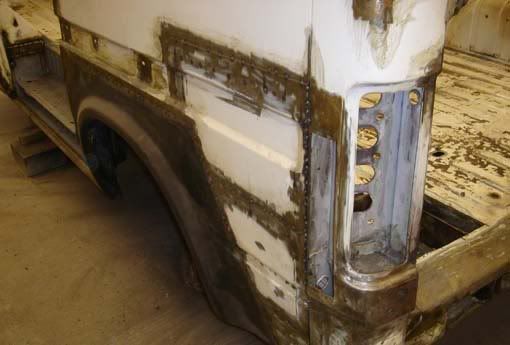 These are new door steps, again just folded out of flat sheet steel and hit into shape over a prehistoric anvil with a lump hammer.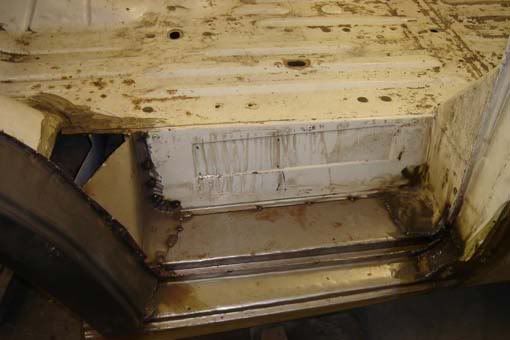 New sills and new steel around the filler entry hole.
A new huge new sill going on the driver's side.
New rear driver's wheel arch and holes cut out and new steel formed for the gas bottle door and for the side exit of the water heating chimney.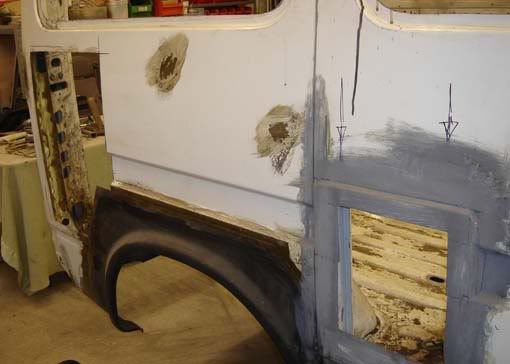 This is a common problem I guess as I have seen pictures of the rear floor and chassis section welded up on this forum a few time. Is this familiar any one?
Im just throwing filler at it now.
Just ready for paint now.