Ford Transit Forum Convoy, Camping & Drag Racing Weekend
North Weald Airfield, Essex. Saturday & Sunday date to be confirmed
Yes its that time again and the dates have just been released by North Weald Motorsport.
Unfortunately the
15 July
has been set aside for BikeFest, so until the main man Luke can discuss terms it might have to be the weekend of
June 17th
. Weekend/Camping & entry will hopefully be discounted again (abt £7 hopefully) racing if you want too, will be £25 for as many times as you can get on

But meantime, it would be good to start organising and getting a rough idea of numbers for the weekend, who would like a go at the strip and the preferred dates Then Luke can work his usual magic with North Weald Motorsport.
we just need an idea of numbers and whether racing

please copy and add your name to the list
The meeting point is the car park of Birchanger Motorway Services CM23 5QZ (Stanstead Airport turning), Junction 8 of the M11
It is at this point where the convoy comes into effect and you CANNOT gain access to the site, unless you are in the convoy, as the marshals will close the gate behind us, until the next morning, where you can join us if you wish for breakfast.
We will depart the services
around
6:00pm and travel the 15 minutes in convoy to North Weald Airfield just off junction 7 of the M11 (Harlow turning)
I would recommended arriving at 4:30pm and no later than 5:30pm due to the 2 hour parking restriction at the services
the price is £7 per person (kids under 14 are free) this is £7 for entry and camping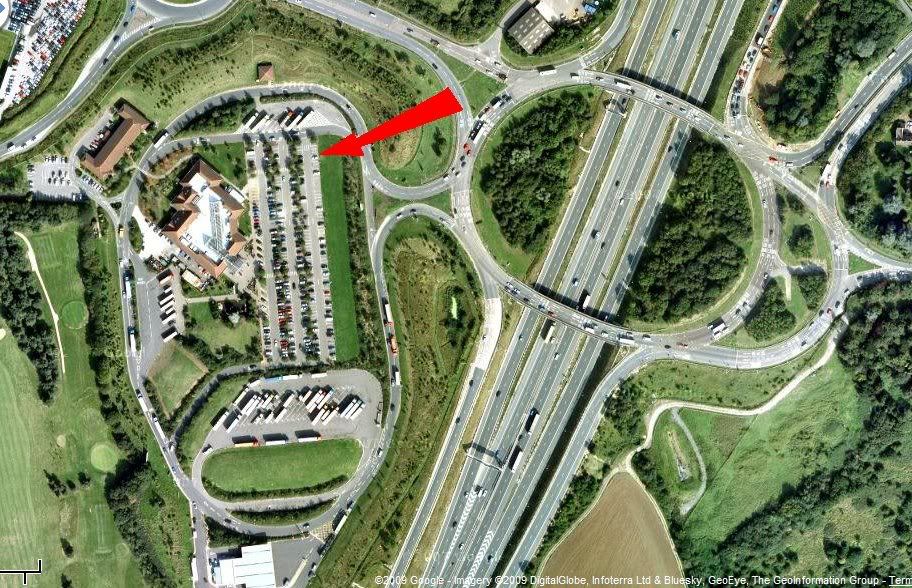 red arrow shows the meeting area

Luke
AlanN