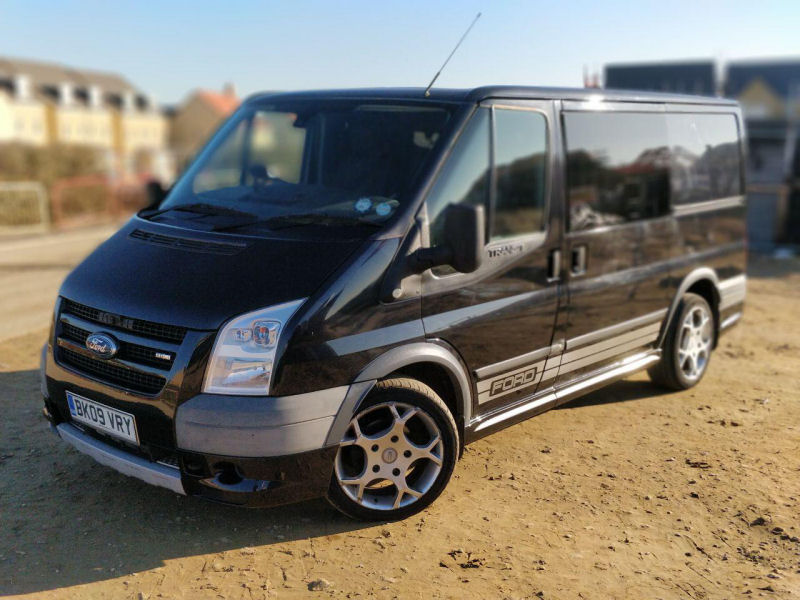 The majority of work done on this van was watched by many on this forum a few years ago, but after so long I have the urge to start another project so it's time to say goodbye to this fantastic vehicle.
A great van made greater with one of the best rear conversions you will see. All panels are insulated with Celotex to keep the summer heat out and believe me, it makes a huge difference. Side and rear windows fitted with curtains to give extra privacy. Two BMW textile seats in the front and two BMW leather seats in the rear with a removable sofa style bed. Rear seats are on rails allowing them to slide forward or back, making the load space more adaptable for every need. Reversing camera fitted in rear door and auto display when reverse is selected. Original black vinyl decorates the black windows for that subtle custom view - note that if it's not to your taste, it can easily be removed and there will be no fading of paint around it. LEDs in the rear give plenty of light when needed and lighter sockets with USB socket allow the charging of many devices. LED headlights give great coverage of the road at night time. The aircon works flawlessly on the hottest of days and when used with the heated screen, windows are quickly cleared on the dampest of days.
With less than 70K on the clock and an MOT to the end of May, this van is ready to go. This van has been fully maintained and never seen hard work.
A large number of photos can be seen at
https://mjs.co/sportvan
and many photos of the work done to this van can be seen
https://mjs.co/transit
I can be reached on 07735600616 (though normally have the ringer off so a good idea to email or message first) or email at
sportvan@mjs.co